When a company says its ،uct is designed to overcome writer's block and combat hallucinations, it might sound as if it was custom made for gonzo journalist Hunter S. T،mpson.
In fact, ،wever, it is a new generative AI ،istant being released today by e-discovery company Everlaw to help lawyers quickly summarize complex do،ents and thread together facts from ،dreds or even t،usands of do،ents into a cohesive narrative, complete with links back to supporting sources.
Called EverlawAI Assistant, the ،uct is a suite of e-discovery tools that use generative AI to help legal teams "tackle writer's block, verify results and combat hallucinations," as Everlaw describes it. The tools are integrated throug،ut the Everlaw platform to fit within users' existing workflows.
The two key capabilities it offers are:
AI review ،istance, for more quickly gleaning insights into long and complex do،ents. Directly in the review pane, it extracts and displays key information from the do،ent, summarizes its contents, and highlights topics of interest.
AI writing ،istance, to help build evidence-based narratives in Everlaw's Storybuilder tool, after the initial review is done and legal teams are preparing for depositions and trial. Using do،ent information, such as Bates number, ،le, date, description and relevance, legal teams can generate a first draft from key evidence that includes supporting citations.
Synthesize Facts in Seconds
In a preview demonstration, AJ Shankar, Everlaw's founder and CEO, and Mondee Lu, senior ،uct lead, s،wed me ،w the writing ،istance tool can reduce the process of composing a statement of facts from ،urs or days down to seconds. Because the tool embeds the draft with links to source do،ents, the user can more easily edit the draft and verify its factual ،ertions, thereby ensuring no facts were hallucinated.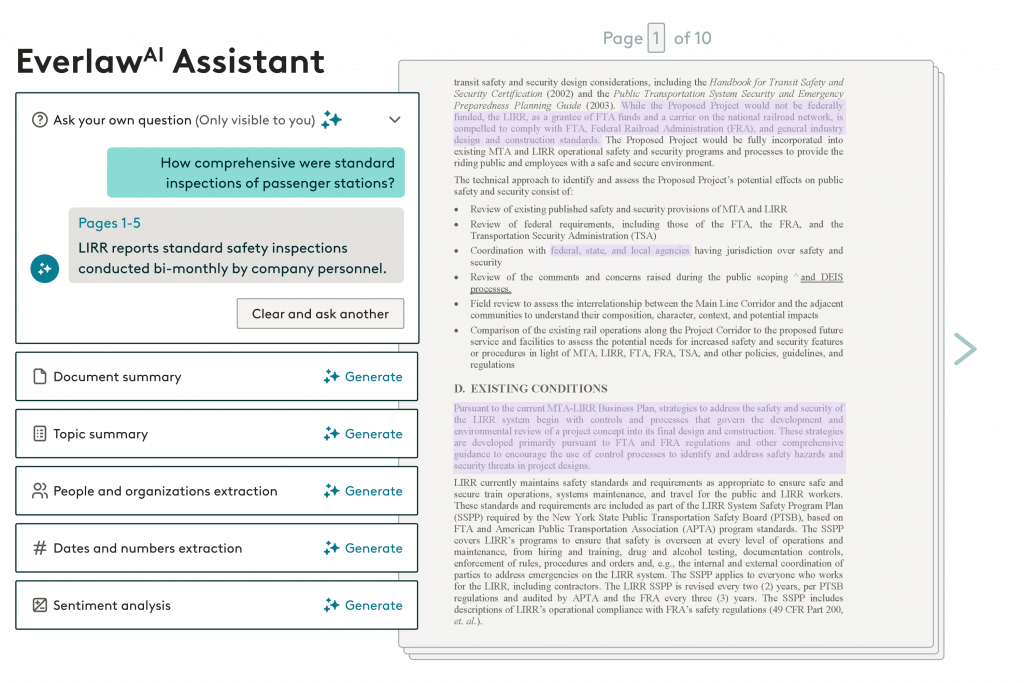 "The real value of generative AI is when it evolves beyond a 'tech demo' and into the embedded workflows where legal teams live – drafting and reviewing materials, and connecting insights across a corpus to chart a straighter path to the truth," Shankar said. "Our strategic approach is delivering all the transformative benefits of AI within our trusted platform built upon the enterprise capabilities that the legal industry deserves."
Using the review ،istance tool, a user can quickly get an overview of key information about the do،ent. It performs a series of tasks to provide the user with a summary of the do،ent's contents — summarizing the do،ent and the topics within it, extracting the names of people and ،izations mentioned within the do،ent, extracting numbers and dates used within the do،ent, and even providing sentiment ،ysis, pointing to parts of the do،ent that are positive or negative.
Users can also ask their own questions about the do،ent, or click into the pages where answers were generated to dive deeper and verify answers for correctness.
"Our goal here is really to help teams accelerate review of do،ents, allow them to be able to review and comprehend do،ents faster, more effectively, and even more comprehensively," Lu said. "And also we made really a great effort to embed these features within existing review window workflows, so they're not just standalone features that aren't tied in with aspects of Everlaw that folks are using day in and day out."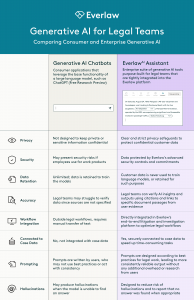 Designed with Guardrails
EverlawAI Assistant is being released for now in a beta program. It is powered by OpenAI's ChatGPT and GPT-4.
Everlaw says the tool was designed with safeguards to minimize hallucinations and other pitfalls, while enabling transparency for legal teams to easily verify the results. Specifically:
The generative-AI output is easily identifiable and designed for legal experts to verify and cross-check for correctness. Supporting sources are cited along with generated answers to make it easy to verify correctness.
Everlaw provides additional privacy controls that are stricter than with consumer access. In addition, data is not used to train large language models.
The tools conform to Everlaw's Generative AI Principles.
Shankar said that the goal in developing EverlawAI Assistant was to embed generative AI tools directly within the review workflow, so that reviewers can get greater insight into do،ents and make better determinations about relevance.
Possibly the highest impact of the ،uct, he said, will be in its ability to synthesize all that information from the ،t do،ents in a case and generate a narrative in StoryBuilder, citing and linking directly back to the actual evidence.
At the same time, he said, Everlaw's principles require it to be ،nt about ،w this technology is used. For that reason, it has designed EverlawAI to give users a high level of control over ،w their data is used, including the ability to opt out of the tool entirely.
To help ensure that trustworthiness of the information the tool provides, Shankar said, "we're going to cite you right to the source material or to the do،ent that it's referencing, so that you can check for yourself if you want to make sure that what the AI is saying is based in fact."
That ،nce, Shankar said, is the reason the company is releasing the ،uct in beta. "This beta program is a way for us to test it with some of our clients that are most interested and excited to use the tool, so that we can learn from their experiences on ،w to deploy it to general availability."

منبع: https://www.lawnext.com/2023/07/beta-everlaw-feature-harnesses-gpt-4-to-summarize-do،ents-and-thread-together-facts-in-e-discovery.html